I was really pleased that Jeremy & Nicole had asked me to shoot their wedding photography at Whatley Manor. It's a beautifully restored Cotswold Manor near Malmesbury in Wiltshire, with well tended and interesting gardens and loads of potential for great photographs around the grounds.
It was February, and Jeremy & Nicole had a small intimate ceremony at Bristol registry office before heading over to Whatley Manor to celebrate. But it was cold, wet, and with the dull wintry afternoon light too late to be thinking of shots around the grounds, so what to do?
After a little location scout I found a couple of places that would make for interesting shots with some off camera flash, so once I'd finished capturing the day I decided to stay a little later than planned just to make sure it was dark enough to get the look I was after. The image below is my favourite – it's simple, and I love the way they're framed in the archway with a little rim lighting to separate them from the background. The black on white embrace and Nicole's dainty dress seals the deal for me.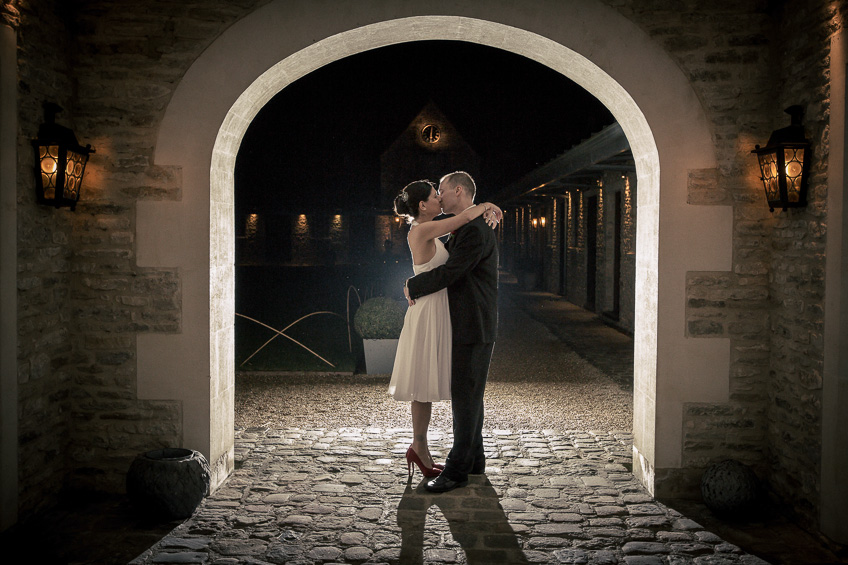 For the geeks amongst you: ISO 1250, f5.6, 1/60, Flash at 1/4 power
Comments
comments